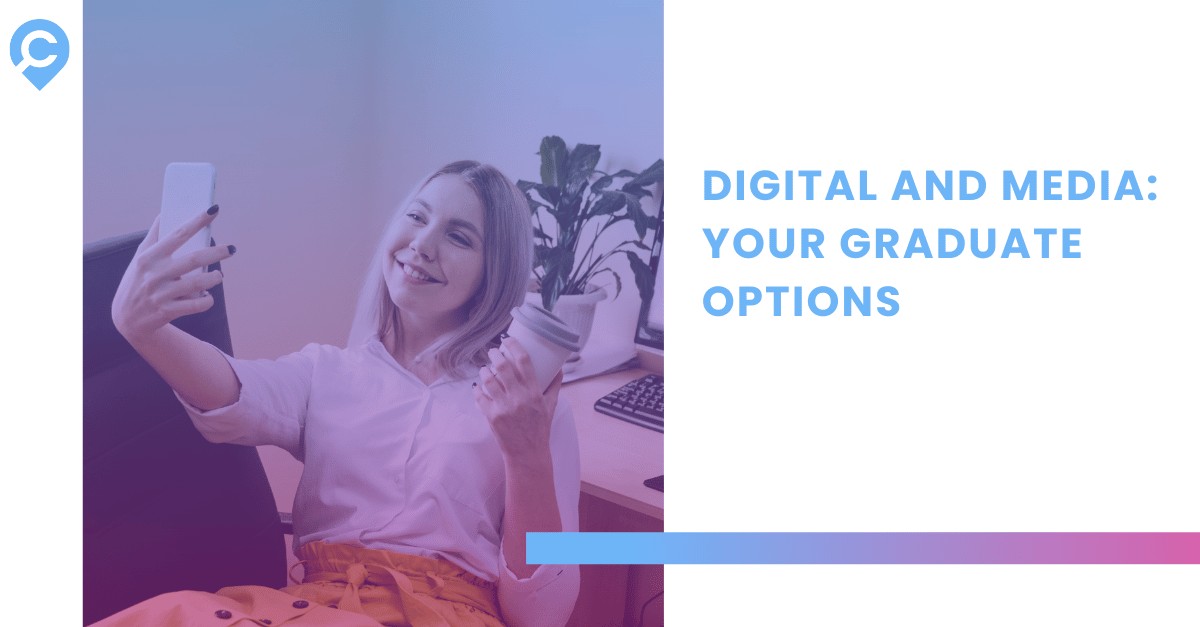 Interns and Graduates
Digital and Media: Your Graduate Options
Graduate media, digital and marketing positions will continue to be in high demand across various creative sectors as media material is increasingly in demand from digital video subscription services like Netflix, Disney+, Amazon Prime Video, and Apple TV. With the constant evolution of the digital world, careers in this sector are endless whether you want to work in digital or media.
There are a wide range of roles available in digital and media, these include:
Music, radio and television
Actor Broadcast engineer Broadcast presenter Dancer Music producer Musician Programme researcher, broadcasting/film/video Radio broadcast assistant Radio producer Runner, broadcasting/film/video Sound engineer Talent agent Television camera operator Television floor manager Television production coordinator Television/film/video producer
Production
Animator Choreographer Concept artist Film director Film/video editor Illustrator Interior and spatial designer Lighting technician, broadcasting/film/video Location manager Make-up artist Multimedia programmer Multimedia specialist Production designer, theatre/television/film Sound designer Sound technician, broadcasting/film/video Special effects technician Stylist Theatre director VFX artist
Journalism
Broadcast journalist Editorial assistant Magazine features editor Magazine journalist Newspaper journalist Press photographer Press sub-editor Print production planner Science writer Technical author Telecommunications researcher Writer
Digital media and marketing
Advertising art director Advertising copywriter Applications developer Digital copywriter Digital marketer Graphic designer Media buyer Media planner Media researcher Photographer PPC specialist SEO specialist Social media manager UX designer/researcher Web content manager Web designer
Games and video
VFX artist/editor Games design Games developer
Music, Radio & TV / Production Employers
Bauer Media
From working for our individual brands to functions that are Bauer-wide, we have roles available across programming, commercial, branded content, editorial and more.
Find out more: https://www.bauermedia.co.uk/join/careers
BBC
Ready to launch your career at the BBC? The BBC offer graduates the chance to kick start your passion into a job that you love.
Find out more https://www.bbc.co.uk/careers/trainee-schemes-and-apprenticeships
Channel 4
Our Production Training Schemes are open to anyone who wants to get involved in making innovative television programmes; whether it's helping to conceive new ideas as a Researcher or bringing those ideas to life as a Production Assistant.
Find out more: https://careers.channel4.com/4skills
Freemantle UK
Fremantle UK, consists of a group of labels, producing some of the UK's most successful shows: Boundless, Euston Films, Hare and Tortoise, Talkback…
Find out more https://fremantle.co.uk/culture/careers-at-fremantle/
Global Radio
Global is home to some of the UK's best-loved radio stations such as Heart, Capital and Classic FM, to name a few, we keep 25.2 million listeners tuned in and entertained each week.
Find out more https://jobs.global.com/gb/en/early-careers
ITV
At ITV, we're building a place where everyone can learn, develop, grow, and build a career that's just as incredible as our business.
Find out more: https://www.itvjobs.com/
Procam Take 2
We are passionate about investing in the next generation of technical talent, and play an active role in promoting diversity, equality and opportunity in the film and television sectors.
Find out more: https://procamtake2.com/uk/careers/
Warner Bros
Our paid internships aren't your run-of-the-mill programs. When you join us, you'll work with the best talent in the industry gaining unparalleled experience in a variety of business units. A Warner Media graduate scheme is a great way to start your career!
Find out more: https://warnermediacareers.com/global/en/internships-early-careers
Wireless Group
We are a dynamic and progressive employer who is committed to recruiting, training and retaining highly skilled, motivated and flexible staff.
Find out more: https://www.wirelessgroup.co.uk/careers/working-at-wireless-group/
You could also check out your local radio stations near you!
Journalism Employers
CNBC
Our highly competitive program identifies outstanding aspiring journalists who bring diverse backgrounds to news production and news coverage.
Find out more: https://www.cnbc.com/early-career-opportunities/
HarperCollins
A paid internship at HarperCollins provides an exciting opportunity to work inside one of the world's largest publishers.
Find out more: https://www.harpercollins.com/pages/careers-internships
The Financial Times
We are committed to investing in the next generation through internships, work experience, graduate schemes, and the FT Talent Challenge.
Find out more: https://aboutus.ft.com/careers/early-careers
The Times
The Times invites applications for its 2022 graduate training programme for news reporters. This is an opportunity to work at one of the most respected Newspapers.
Find out more: https://www.thetimes.co.uk/article/graduatetrainees-rnf8cj525
Digital Media and Marketing Employers
There are a range of employers offering digital marketing and media graduate schemes. They are a great way into the sector!
BT
Marketing. Where would we be without our Marketing department? Not very far, that's for sure. Our marketing teams create huge campaigns to attract customers to our company, making sure they know not only what our customers want, but what we're all about.
Find out more: https://www.bt.com/careers/early-careers/graduates/our-programmes/marketing
Centrica
The marketing graduate scheme is truly an amazing and unique place to be, you'll get great exposure to one of the UK's biggest and best known brands. Lead the creation of great products and services as part of an award-winning team.
Find out more: https://www.centrica.com/careers/early-careers/graduates/graduate-roles/commercial-marketing/
Diageo
Bring your passion and ideas to one of our graduate schemes, and let's celebrate everything you contribute.
Find out more: https://www.diageo.com/en/careers/early-careers/graduates
NatWest
It's a perfect time to join the digital revolution with us in a technology role, and we've a wide range of opportunities available.
Find out more https://jobs.natwestgroup.com/pages/early-careers
Red Bull
Every one of us is unique, with different passions, talents and goals. This Programme is designed to draw out the best in you.
Find out more https://jobs.redbull.com/gb-en/microsite/graduate-program
The Hut Group
Our graduates work alongside THG's world-class tech experts, finding solutions to challenging problems and having a real impact from the start of their careers.
Find out more: https://www.thg.com/graduates/
Motorpoint
At Motorpoint, you'll never take a backseat. Your needs are at the forefront of our agenda as an employer.
Find out more: https://careers.motorpoint.co.uk/
QA Academy
A WORLD-LEADING TECH & DIGITAL SKILLS ORGANISATION. We help many of the world's leading companies to build their tech and digital capabilities via our leading range of training courses, reskilling bootcamps, and work-based learning programmes & apprenticeships.
Find out more: https://www.qa.com/
Virgin Media
We give people like you what you need to explore new experiences and big opportunities.
Find out more: https://careers.virginmedia.com/future-careers/graduates/
Some organisations, hire their own in house marketing and digital media staff but it's also worth noting that there are lots of opportunities within agencies too!