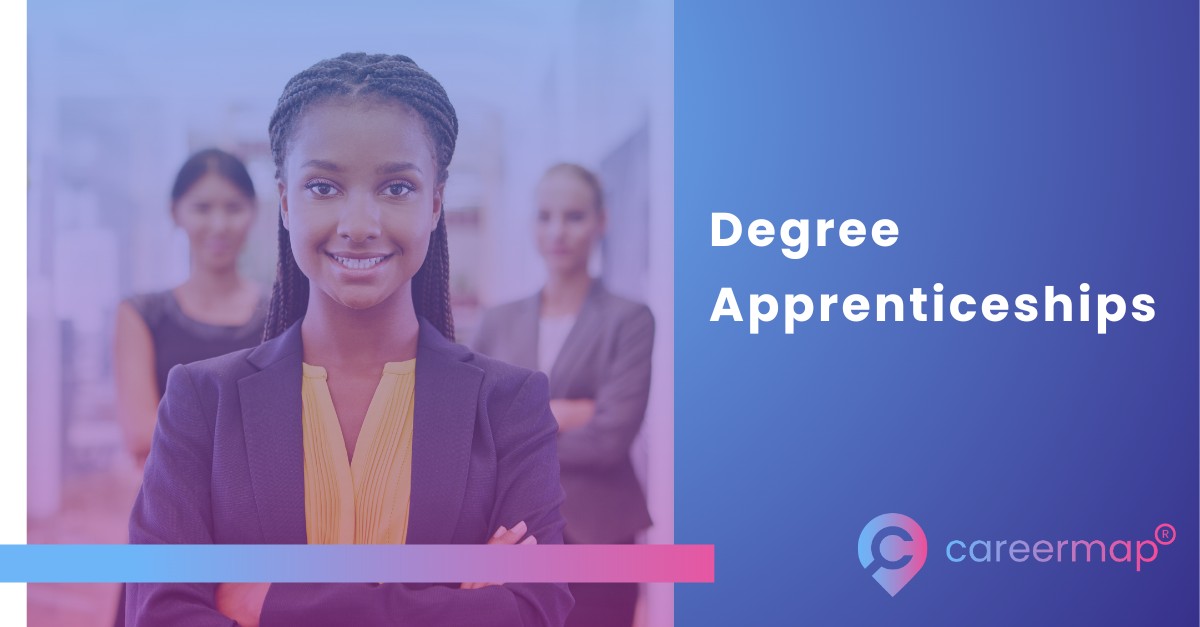 School Leavers
Degree Apprenticeships
Degree apprenticeships are a credible alternative to going to university. If you're interested in gaining a degree but don't like the sound of having to pay for tuition fees then this route could be right up your street! And you'll be pleased to know that degree apprenticeships are on the rise.
The relatively new type of programme offers a different pathway to learning which can help you to kick-start your career. Degree and higher apprenticeships are rapidly expanding. Degree apprenticeships extend alongside higher apprenticeships and come after advanced apprenticeships.
If you want to graduate with your cap and gown then degree apprenticeships give you the opportunity to do this. You'll also graduate with the equivalent of a BA(Hons) or BSc (Hons) degree. They enable you to gain a qualification level equal to your peers who follow the traditional full time university routes. If you're looking for a challenging and unique learning experience then this could be the route for you.
Like the sound of debt-free degree apprenticeships?
University isn't the right pathway for everyone and this shouldn't limit your opportunities when it comes to securing your dream career. Some young people are keen to get out to the world of work now and a degree or higher apprenticeship could be a great way to make this step.
Degree level apprenticeships combine academic study with a part-time basis at university. The rest of the time will be spent with an employer in the workplace. You'll usually spend 20% of your time working towards your qualification in a university environment and the other 80% of the time will involve learning on the job.
Your study will normally take place at the institution (university or college), a training provider or learning mentor may come to visit you at your work environment or you may have online study.
Degree apprenticeships typically take between three and six years to complete. This depends on the course level and the industry. A degree apprenticeship presents the opportunity to gain a full bachelor's degree (Level 6) or a master's degree (Level 7) while earning and learning.
Higher apprenticeships go from Level 4 to 7, the equivalent to a Foundation Degrees, Higher National Certificates (HNC) or Higher National Diploma (HND). There a many types of apprenticeships. Below is a chart to show what the educational level equivalent is:
How to be accepted onto a degree apprenticeship?
Degree apprenticeships can be challenging but highly rewarding too! You'll be combining academic study with starting your professional career so you'll need to be committed to the job and your study time.
To be accepted onto a degree apprenticeship you will need formal qualifications at a minimum of a Level 3. This could be A Levels, an apprenticeship, NVQ or BTEC and it generally depends on the employer as to whether you need a higher qualification. However, this isn't always the case and if you possess little qualifications but heaps of experience you may also be accepted onto a degree apprenticeship programme. Again, this all depends on your employer and the university!
If you're unsure whether you meet the criteria you could always commit to an advanced apprenticeship which could be the stepping stone between you and getting that degree!
What qualifications do you need for a degree apprenticeship?
The qualifications you need to be accepted onto a degree apprenticeship often vary depending on the employer, university and type of apprenticeships. However, in most cases, you will need a minimum of five GCSEs grades A* – C (9 – 4 on the new grading system), typically including maths and English. You will also need a Level 3 qualifications, including A levels, NVQs, apprenticeship or a BTEC. Some employers will also expect you to have subjects which are relevant to the degree apprenticeship you are keen to start. Always check the entry requirements in the job description when applying to one.
What are degree apprenticeships like?
Degree apprenticeships give you the opportunity to earn a salary while learning and also gaining a professional qualification! Not only will you gain a degree but you'll also develop your skills and gain real work experience. When you're at work you'll usually be assigned a designated mentor who will help and offer you support throughout your apprenticeship programme.
A degree apprenticeship also encourages you to put your theory learning into practice on the job and exposes you to plenty of learning and development opportunities. As a degree apprentice, you will typically be given real responsibilities and face challenges from the word go! However, if you ever feel overwhelmed by your workload or unable to handle a certain situation you will always be able to seek the help of your peers, learning mentor or manager who wants to see you succeed.
During your degree apprenticeship, your responsibilities may expand and you could be managing teams in just a short while! If you're looking for progression opportunities then a degree apprenticeship really is filled with them!
What qualifications will I get?
As a degree apprentice, you'll receive the same level of qualification as those who choose the traditional full time university route. If you're looking to gain experience as well as a qualification then a degree apprenticeship provides a credible alternative.
The qualifications you'll receive as a degree apprentice includes:
A full BA(Hons)
BSc (Hons) degree
If you don't already hold GCSEs in maths and English but have been accepted onto a degree apprenticeship then you'll also be required to complete your Level 2 or Level 3 functional skills in English, maths and sometimes ICT. Passing these are necessary to completing your apprenticeship.
As part of your apprenticeship, you may also gain additional qualifications such as a Qualified Teacher Status if you do a teaching apprenticeship or a Chartered Status. You may also gain qualifications which are directly linked to your role such as if you're required to operate machinery.
How will my training be structured?
Your training will include 20% academic study with your training provider, college or university and 80% in the working environment. However, the structure of your training may vary. Sometimes this will be done on a weekly basis or a block release away from work to spend time studying towards your qualification. Your training is usually made up of the following:
Lectures
Seminars
Individual Learning
Group Study
Plus much more!
You may have to go to university, college or to your training providers during your dedicated academic study or alternatively they may come to visit you in the workplace. Another way could be to do your study online.
What degree apprenticeships can I do?
From business degree apprenticeships to architect, scientist, civil engineer to cyber security degree apprenticeships – there really is something for everyone! Degree apprenticeships are offered across a wide range of industries. There are currently 76 apprenticeships available at undergraduate degree level and 30 available at Level 7 with more being developed!
To name a few, these can cover the following industries:
Education
Aerospace
Architecture
Retail
Broadcast and media
Building and construction
Engineering
Business to business sales
Site management
Chartered legal executive
Career development professional
Chartered manager
Chartered surveyor
Civil engineering
Healthcare
Midwife
Clinical trials specialist
Nurse
Cyber security
Data scientist
Radiographer
Dietitian
Digital and technology
Marketing
Accounting and finance
First officer pilot
Hospitality
Science
Manufacturing
Marine
Public services
Transport
Plus many more! There really are so many exciting options available.
Engineering degree apprenticeships
Degree apprenticeships in engineering could be the route for you if you're a curious thinker, love a challenge and enjoy problem solving! Want to gain a degree but without the debt? Engineering degree apprenticeships offer a credible alternative for you to advance your career while gaining vital experience and skills.
There are many interesting engineering degree apprenticeships available. These include the following:
Aerospace engineer
Aerospace software development engineer
Control / technical support engineer
Electrical / electronic technical support engineer
Electronic systems principal engineer
Embedded electronic systems design and development engineer
Food and drink advanced engineer
Manufacturing engineer
Manufacturing manager
Marine surveyor
Marine technical superintendent
Materials process engineer
Materials science technologist
Non-destructive testing engineer
Nuclear scientist and nuclear engineer
Ordnance munitions and explosives professional
Packaging professional
Postgraduate engineer
Power engineer
Process automation engineer
Product designer and development engineer
Rail and rail systems principal engineer
Rail and rail systems senior engineer
Risk and safety management professional
Science industry process/plant engineer
Systems engineer
Through life engineering service specialist
Engineering is a career which affects all aspects of our lives, whether we realise it or not. From building and designing roads to creating new and innovative products. This is a career which guaranteed diversity and complexity and excitement.
Engineering degree apprenticeships equip you with a range of industry specific skills so you can become an expert! You'll gain skills in the following areas:
Problem solving skills
Creativity and innovation
Verbal and written communication skills
Ability to work in high pressured conditions
Meet deadlines
Interpersonal skills
Close attention to detail
Not only will you enhance your skills but you'll also get the chance to gain work experience and gain an engineering degree apprenticeship qualification! Explore your options at Careermap:
Business degree apprenticeships
Business degree apprenticeships are a fantastic way for you to kick-start your career while earning and learning. During this programme you will be exposed to the working environment while also combining study. Business degree apprenticeships include the following:
Career development professional
Chartered manager
Improvement leader
Project manager
Senior Leader
Throughout this apprenticeship you will develop insights into the business environment enabling you to become an industry expert with the skillset, qualifications and experience to match! You could work for a large corporate company or a small to medium enterprise. Business is an industry which sees a lot of sector crossovers. For example, construction companies need business staff as do many other organisations.
Business degree apprenticeships enable you to gain skills in the following areas:
Communication
Management (this could be managing people or resources)
Conflict management / resolution
Flexibility
Interpersonal skills
Multitasking
Problem solving
Organisational skills
Ability to remain calm under pressure
There are lots of options for business degree apprenticeships. Explore yours here:
Are degree apprenticeships a viable alternative to university?
Absolutely! Degree apprenticeships can lead to a successful career just like a university degree can and you'll be qualifying at the same level as your university peers. A degree apprenticeship is a good way to avoid student debt as the employer and the government will cover the cost of the tuition fees. In addition, apprentices actually get paid!
There are various benefits to both degree and higher apprenticeships. Apprentices are very employable because they have gained valuable industry-specific experience and relevant skills which employers want plus you'll have no university debt.
Who can do a degree apprenticeship?
Degree and higher apprenticeships are highly sought after and competition can be fierce. Wondering whether you're eligible for a degree apprenticeship? As long as you are able to work in the UK, aren't currently undertaking full-time study and don't already hold a degree in the job role then you can apply. There are no upper age restrictions to do an apprenticeship.
The grades needed to apply for a degree apprenticeship will vary depending on the employer, however, they usually require A-levels or an equivalent qualification such as an apprenticeship, NVQ or BTEC. You may also be expected to have a minimum of 5 GCSEs at A* – C (9-4 on the new grading system), normally including English and Maths!
What do employers look for during the application process?
Degree apprenticeships can be extremely competitive so you'll need to stand out from the crowd and prove how much you want this! You'll also need to highlight transferable skills which you have gained through previous employment or during your study time. You usually need to pass some basic assessments, and online tests for numerical skills, aptitude, and attitude.
Employers realise that you might not have any work experience in your chosen industry but showing your ability to manage your time, organisation skills and the ability to work as a team or individually can go a long way in helping your CV to be successful. You may have gained these skills in a part time job or perhaps you've completed a project at school or college where you had to work to deadlines.
There are a number of skills and qualities which are considered employable. Some roles require additional skills, if you're looking to become a nurse then you might also need to show your caring attributes. However, generally speaking, these are the key qualities employers look for in their candidates:
Enthusiasm and motivation Work can be a challenging place, remaining enthusiastic and motivated when the going gets tough is a must! Embracing challenges can help enhance your skills further and open up doors for progression opportunities. You should also do an apprenticeship in an industry you're passionate about!
Commitment Degree apprenticeships can be challenging at times and you'll need to find a balance between your work, study and home life. To qualify with a degree you'll also need to ensure you set time to study towards your qualification and learn on the job. Commitment to your job and study is a must!
Teamwork The ability to work as part of a team when required to do so makes young people more employable. Employers are looking for candidates who can help support others as the business requires. You may also be expected to work independently too, so being able to do both is a bonus!
Time management Punctuality is a must in the world of work! If you're constantly turning up late then this is never a good start. Employers want people who are reliable which means arriving to work on time. You may also need to manage your time if you have a deadline to meet. You'll need to prioritise your other tasks so you can complete the key project.
Interpersonal skills Interpersonal skills are the ability to work well with others. This might mean that you're an active listener, responsible, patient, an effective communicator and someone that others can depend on. Interpersonal skills also link closely with working as part of a team.
Creativity and innovation Creativity and innovation has never been so important in the job market as it is today! Thinking outside the box often helps develop problem solving skills and can spark inspiration. It also gives you the opportunity to explore more meaningful results and help to overcome challenges.
Standing out from the crowd
There aren't as many degree apprenticeships as lower level apprenticeships, however you'll be pleased to know they are on the rise! The fact that there aren't as many at the moment means that they can be competitive to be accepted onto one. To be accepted onto one you may need to hold a Level 3 qualification at the minimum and you'll also need to show you have a positive working attitude.
Additionally, if you have previous work experience, have done an apprenticeship before, showing you can balance work and study, or you have challenged yourself academically and received your results then this could be what you need to stand out from the crowd!
How much does a degree apprenticeship cost?
Degree apprenticeships cost you, as the employee, absolutely nothing! This is the same for Level 2, Level 3, Level 4 and Level 5 apprenticeships!
What is a degree apprenticeship salary?
The degree apprenticeship salary varies depending on your employer. The minimum wage for an apprentice is £5.28 per hour. This is the minimum you will get paid if you are an apprentice under 19 years old, or if you are 19 or over, but in your first year as an apprentice. After that you must be paid the national minimum wage for your age.
Apprentices aged 19 and over who have completed their first year of training are entitled to the National Minimum Wage. This depends on your age.
For 18-20 year olds, this is £7.49 per hour.
For 21-22 year olds, this is £10.18 per hour.
For 23 and over, this is £10.42 per hour.
These wages are current from the 1st April 2023.
However, it's worth bearing in mind that many employers pay more than the minimum apprenticeship wage. The degree apprenticeship salary can often start off at £18,000 but it could be even more! However, even if it less than you'd expected, remember, you're getting a degree out of this for free, plus you'll gain heaps of experience and skills and you'll graduate debt free!
What does a degree apprenticeship involve?
Degree apprenticeships means all your tuition fees are paid for. They give you the chance to work and learn while also getting paid! Degree level apprenticeships involve structured training and is split between 20% training and 80% in the working environment.
If you're thinking of choosing a degree apprenticeship because you consider it to be the easy route then let us tell you it's not! They are actually far from it. A degree apprenticeship combines work and study enabling you to gain vital skills, workplace experience and a nationally recognised qualification. You'll face academic and workplace challenges and have real responsibilities with great prospects.
Entering the world of work can be an overwhelming experience but equally as exciting. Some people don't feel ready to begin work and that's perfectly fine – a degree apprenticeship might not be for you! But don't worry, you have options! You might choose to study towards a full time undergraduate degree or gain work experience prior to a degree apprenticeship. Whatever you decide, there is no right or wrong pathway. As long as you're able to make a well-informed decision.
If you do decide to go down the degree level apprenticeship route then you'll gain a real understanding of the industry you're working in and develop transferable skills in the workplace. This can open new doors of opportunity.
Once your apprenticeship is complete and you've graduated then you might choose to continue onto a Level 7 apprenticeship or you may decide to find a new role with the experience and skills you've gained. Alternatively, your employer may decide to keep you on after your apprenticeship. After all, they have invested a lot of time and money into you!
Degree apprenticeships have lots of potential and really can set you up for life! If you're thinking about one then it could lead to some fantastic opportunities and it really is a viable alternative to full time study!
Degree apprenticeships in London
Looking for degree apprenticeships in London? You'll be pleased to know that there are a number of opportunities available in London. As the capital of England, London is home to some of the worlds largest companies. Many headquarters are based in London, meaning there are plenty of degree apprenticeships!
Here are just a couple of the degree apprenticeships in London which are available:
BPP Business School support young people to achieve a BBA (Hons) Chartered Management and BSC (Hons) Design and Technology Solutions.
BDO are the experts when it comes down to accountancy and business. Through their degree apprenticeship you can become a professional too! BDO offer apprenticeships in the following areas, tax, audit and assurance, business services and outsourcing and advisory.
Degree apprenticeships in Manchester
Manchester is another city which is booming with career opportunities. There are a number of universities which offer degree apprenticeships in Manchester. These include the following:
The University of Salford offer degree apprenticeships in Business and Management (Chartered Manager Degree Apprenticeship), Quantity Surveyor (Chartered Surveyor Degree), Building Surveying (Chartered Surveyor Degree), The Salford MBA (Senior Leader) Civil Engineering and Biomedical Science (Healthcare Science Practitioner).
Manchester Metropolitan University also offers a range of degree apprenticeships in Manchester. These include Advanced Clinical Practitioner (Masters), Architect (Masters), Chartered Manager, Chartered Manager Fast-Track Executive, Chartered Manager Health and Social Care, Digital & Technology Solutions, Digital & Technology Solutions (Masters), Digital Marketer, Laboratory Scientist, MBA Degree Apprenticeship, Retail Leadership and Social Worker.
Redrow also offer apprenticeships at degree level across the North West, including Manchester. This gives you the chance to commit to a degree apprenticeship in Construction Management. Here you will expand your knowledge and gain experience while also developing new skills.
How can I get a degree without paying?
Degree level apprenticeships offer you the chance to gain a degree without paying but there are also other routes. These can include applying for a scholarship which goes towards your tuition fees, however to amount to the total cost of you tuition fees you would need to get quite a few. A sponsored degree is another pathway which you could choose and involves working directly with the employer so you can gain work experience too!
What is a sponsored degree programme?
A sponsored degree programme means you'll get your tuition fees paid for by your employer but you must work for them either during your course or after you've graduated. If you're unsure about the work-study balance which comes with a degree apprenticeship then a sponsored degree programme could be a good option.
The training is structured differently during a sponsored degree and you may work for the company upon graduation, during a placement year or the summer holidays! The format of your training all comes down to your employer, you might go to university or perhaps you'll be encouraged to commit to distance learning.
Are degree apprenticeships difficult?
Large employers are taking apprentices more seriously than ever! Employers realise that sitting in a classroom all day isn't for everyone and understand that degree apprenticeships are a viable alternative. In fact, apprenticeships give you the option to understand the business inside out and many employees in senior management positions were once apprentices themselves.
Although degree apprenticeships can be considered challenging they are an ever so rewarding opportunity for you to advance your capabilities and skills.
How to apply for a degree apprenticeship?
To apply for a degree apprenticeship you can visit www.careermap.co.uk. Careermap has lots of degree apprenticeship opportunities from top employers including IBM, Network Rail, BDO, JLR (formerly Jaguar Land Rover), Manchester Metropolitan University plus many more!